By ZHONG NAN in Beijing and WANG YING in Shanghai | chinadaily.com.cn | Updated: 2022-08-25 06:42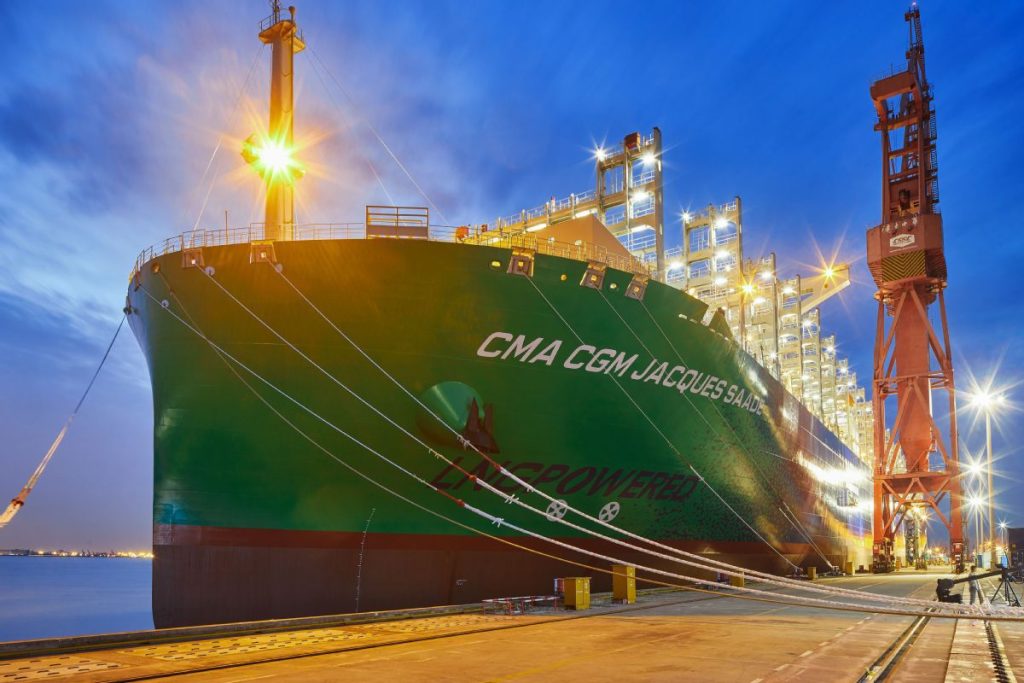 Carriers: Rates soar as demand rises to prepare for winter crunch
Top shipbuilders in China and their overseas competitors are expected to rapidly build new carriers of liquefied natural gas in the years ahead, spurred by soaring rates to ship LNG amid tight global energy supplies, industry experts said on Wednesday.
With global trading companies trying to book as many LNG carriers as possible, the supply of the ships is being hampered by the fact that South Korea, the world's biggest producer of LNG ships, with 76 percent of market share between January and July in the world, cannot take on new orders until 2027, according to estimates by Rystad Energy, a research company in Oslo, Norway.
A record number of LNG carriers had been ordered between January and July, with orders reaching 108, according to British shipbuilding and marine analysis agency Clarkson Research Services.
South Korean shipbuilders, including Hyundai Heavy Industries Co and Samsung Heavy Industries Co, and Chinese shipyards, such as Hudong-Zhonghua Shipbuilding (Group) Co, are the recipients of those orders.
Four LNG tankers, each able to hold 174,000 cubic meters of liquefied natural gas, are now being built in Hudong-Zhonghua in Shanghai for client QatarEnergy, formerly known as Qatar Petroleum. These tankers are among the first of some 100 LNG tankers ordered by QatarEnergy, the Middle Eastern company said.
The Chinese company has contracts for 17 LNG tankers in the first four months of this year.
The global share of Chinese shipyards in building LNG tankers, supported by their technology and complete industrial chain, has grown from less than 10 percent in 2015 to 18.9 percent in the first seven months of 2022, data from the Beijing-based China Association of the National Shipbuilding Industry, or CANSI, showed.
Given the effects of the Ukraine-Russia conflict, and many countries' moves to secure supply for winter demand amid growing LNG costs, many economies such as members of the European Union, Japan and the Republic of Korea have all been rushing to secure ships to carry LNG from the top suppliers, including Australia, Qatar, Nigeria, the United States and Egypt.
The charter rates for existing LNG carriers for mid-September and mid-November are $105,250 per day, according to data provided by Spark Commodities, a London, and Singapore-based commodity pricing agency.
This is 64 percent higher compared with the current daily rate of $64,000, and about 124 percent higher than the price a year ago.
The pool of available ships has been squeezed because trading companies had sealed long-term deals booking LNG tankers well ahead of time to handle the volume of natural gas deliveries.
These moves have reduced the number of ships available in the global market, said Dong Liwan, a professor of shipping management at Shanghai Maritime University.
Many countries are also concerned about the decision by Russian energy company Gazprom to halt natural gas supplies to Europe via the Nord Stream 1 pipeline during maintenance between Aug 31 and Sept 2, he said, adding that prices of LNG and charter ships will keep rising in the coming months.
As global LNG supply and demand is undergoing major changes, the increase in demand for environmentally friendly energy will further drive up the price of LNG tankers, which will benefit shipyards in China and South Korea, said Tan Naifen, deputy secretary-general of CANSI.
https://www.chinadaily.com.cn/a/202208/25/WS63065cc0a310fd2b29e740df.html