Argentina's president defines multilateralism as a nation's right to diplomatically engage with whomever it pleases in speech at UN peace operations conference staged at Defence Ministry headquarters.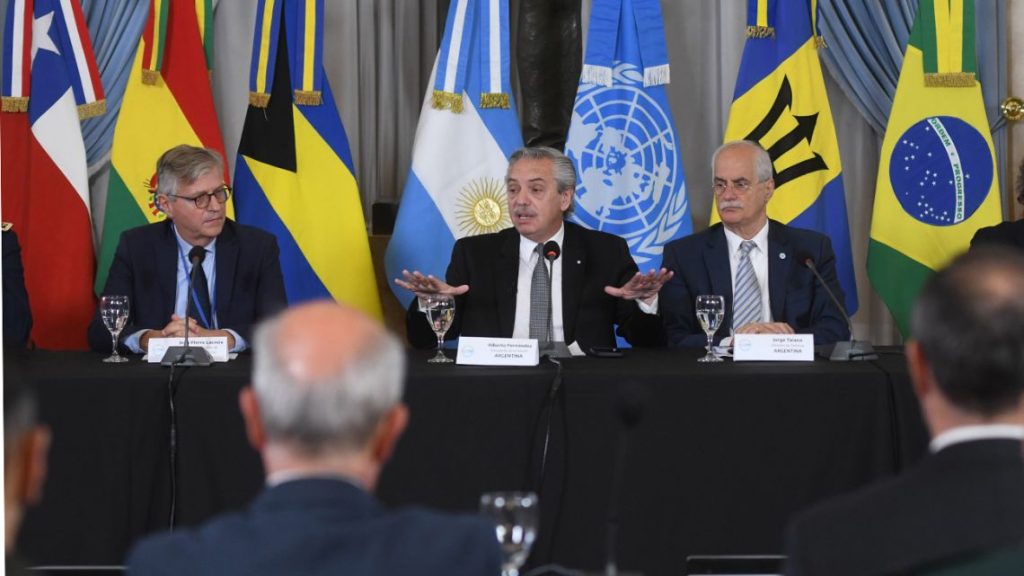 https://www.batimes.com.ar/news/argentina/fernandez-i-can-talk-to-xi-putin-and-biden-equally-nobody-can-question-me.phtml
President Alberto Fernández used a speech to regional defence ministers on Tuesday to speak up for multilateralism and defend his administration's right to engage diplomatically with all nations.
Speaking at the opening of a Latin American and Caribbean Conference on UN Peace Operations in Buenos Aires, Argentina's Peronist leader mourned deaths lost to conflict, called on all nations to commit to peace and defended his administration against critics who have slammed his government's approach to foreign policy.
Fernández, 64, then sought to define multilateralism as the right of nations to engage diplomatically with whoever they please, arguing they "should not be questioned for that" by other governments.
"I can talk to [Chinese premier] Xi Jinping, [Russian President Vladimir] Putin and [US President Joe] Biden equally and no-one can question me on that," said Fernández, before an audience of regional defence ministers and government officials in the San Martín Hall at the Defence Ministry.
In the same vein, he continued: "I can be part of the BRICS and no-one can question that, and I am still part of the West. Multilateralism requires us to respect the principles of the UN, which is the common charter, as a world system.
In several sections of his speech, the president questioned Russia's invasion of Ukraine, though he observed that "violence extends to many other parts of the world."
"There are silent wars going on in the world, which do not have the dimensions of the Russian Army, which do not call on the United States and Europe, but which take innocent lives," he denounced.
Fernández called for a redoubling of efforts to seek peace in Ukraine, admitting that previous efforts had fallen short.
"We are all moved by what is happening in Ukraine, which after such a pandemic has unleashed a war that has taken hundreds of lives, and for more than a year many of us have worked in search of peace and have failed," he lamented.
Acknowledging that the world is in a state of geopolitical flux, Fernández called for nations to respect the principles of the United Nations.
"If I am part of the world, it makes me accept the rules, breaking them is the same as breaking the constitution of a country. It should be as questionable as breaking the constitution in our countries," he said, flanked by ministers Jorge Taina (Defence) and Santiago Cafiero (Foreign Affairs), and UN Assistant Secretary General for Peace Operations, Jean-Pierre Lacroix.
Fernández, who will leave office in December after choosing not to seek re-election this year, praised Latin America as a "region of peace" that had learned to "resolve conflicts through dialogue and diplomacy."
This, he said, was in contrast to existing global hegemonies that seem to be in crisis.
"Europe began to creak with Brexit and now because of the war [in Ukraine]. The South is beginning to wake up, two enormous players are appearing, China and India, which are calling for a new regional grouping that is the BRICS," he stressed, referencing the recent approval of Argentina's incorporation into the bloc.
The president also warned of global military escalation and pleaded with the world to focus instead on the problems facing the hundreds of millions of people living in poverty worldwide.
"If we are living this reality, and if we want it to lead to a process of greater equality, we must seek remedies to correct inequality and guarantee peace," he said.
Fernández demanded the world prioritise "those who suffer from hunger, who have no medicine, who die of middle-age diseases, backwardness, injustice and social inequality," rather than escalating wars that kill innocent civilians.